Input 2020.07.01 10:31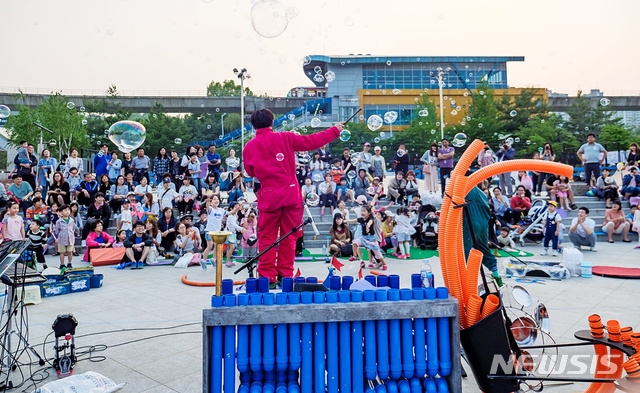 The Daegu Happy Buk-gu Cultural Foundation announced on the 1st that it will open a Saturday Culture Alley Market at'Itaewon-gil', a cultural and art street in Chilgok 3 district in Dongcheon-dong, starting on the 4th.
The Saturday Culture Alley Market, where you can experience various cultures such as street plays, invited performances, and art fairs, will be held every Saturday. It is not open from the 25th to the 29th of August, which is a severe heat.
Although it was scheduled to open in March, the opening was postponed due to the new coronavirus infection (Corona19). In order to ensure the safety of visitors to the Itaewon Literature Museum and the movie theater, the foundation emphasizes compliance with personal hygiene practices such as fever checks, record of visits, and wearing masks.
'Itaewon-gil' is a cultural and art street that contains the name of a novelist, Itaewon from Chilgok, Daegu. In addition to the content development centering on the literary world of the author, Itaewon, the Foundation operates a literary and visual hall in honor of his spirit.
In this cultural alley market, you can meet the story of Ginkgo, a street play that reconstructs the representative work'Guesta' based on the novelist Itaewon's Chilgok Hyanggyo. Through music, dance, and acting by actors, you can feel the history and spirit of the region leading to the present. The street play will be held for about 40 minutes from 3 pm in front of the Itaewon Literature Museum in Dongcheon-dong.
We also prepared high-quality invitation performances by 30 teams selected through pre-competition.
Stages of various genres such as classical music, traditional music, indie music, popular music performances and dances, dawon arts, and magic shows are held every Saturday at 5 to 7:30 pm on the Itaewon-gil's beauty spot. 2~3 teams of artists fill the stage for 30 minutes a day.
In the'art marketplace', you can purchase various art products such as ceramics, hand puppets, knitting, calligraphy, aroma and soap crafts, ribbon crafts, and natural dyeing. It also serves as a window connecting customers and creators with various tastes through experience programs. Around 15 booths are installed from 2 to 8 pm at the US Tour 1 in Itaewon-gil.
You can check the details of this event through the Nuri House of Happy Buk-gu Cultural Foundation.
Lee Tae-hyun, CEO of the Happy Buk-gu Cultural Foundation, said, "A variety of programs are aimed at making the streets filled with authentic literature and culture centered on the unique contents of Buk-gu, which is differentiated from other regions, starting with the'street drama' that adapts the works of novelist Itaewon. I'm going to find them."
Copyrights ⓒ'Korea Press News Hub' Newsis News Agency. Reproduction and redistribution prohibited

Source : https://news.chosun.com/site/data/html_dir/2020/07/01/2020070101488.html